NOW OFFERING FREE DELIVERY
Let us bring Cornerstone to you!
Our new & convenient delivery service is open from 10am-10pm.
Last orders accepted at 8:30p nightly.
So sit back and relax, and we will bring LA's Best Dispensary to you in the comfort of your home.
Our carefully-curated selection of premium cannabis products offers something for everyone. With our user-friendly online ordering system and weed delivery service, you can shop for flowers, prerolls, concentrates, extracts, edibles, topicals, and tinctures — without ever leaving home.
For more information & support contacts, check out our FAQ's below.
How do I order weed delivery from Cornerstone Wellness?
You can easily order online! Just click on this link — Cornerstone Delivery Menu. Then follow the steps below:
Create a profile using your first and last name, phone number, email, and date of birth.

You will receive a text message with a 6-digit code to verify your number.  Once you verify — you are automatically logged in.

On the top left corner, toggle the Pickup/Delivery button to "Delivery" enter your address, and you are ready to place your first weed delivery order!
What locations in Los Angeles County does Cornerstone Wellness deliver to?
Our weed delivery service extends to the following areas: 
Alhambra, Altadena, Atwater Village, Burbank, Pasadena, South Pasadena, Eagle Rock, East Hollywood, Echo Park, El Sereno, Glassell Park, Glendale, Grandview, Griffith Park, Highland Park, La Canada Flintridge, La Crescenta, Lincoln Heights, Mariposa, Mission Hills, Montrose, North Hollywood, Pacoima, Panorama, Panorama City, Royal Canyon, San Fernando, San Gabriel, San Marino, Shadow Hills, Sherman Oaks, Studio City, Sun Valley, Sunland, Sylmar, Tropico, Universal City, Valley Village, Van Nuys, Vineyard.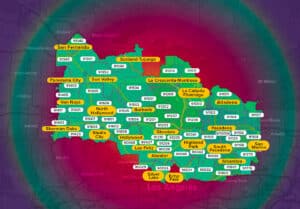 What do I need to order weed delivery from Cornerstone Wellness?
To get your order started, first create an account and upload a valid government-issued ID. For medical marijuana patients with a doctor's letter of recommendation, please upload that as well. MMJ patients can save 5% on taxes. In addition, MMIC cards save 5% on MBT and 9.5% on sales tax.
How much does weed delivery cost?
Delivery is free and has a $50 minimum order amount.
How long does weed delivery take?
Take advantage of our dispensary delivery services from 10 am to 10 pm for same-day service! With 2-hour delivery windows available, it has never been easier or more convenient to receive your order.    
*Please note — The last order must be placed by 8 pm for same-day delivery
What taxes do I need to pay on cannabis delivery in Los Angeles?
You can expect the following taxes to be included:
MBT (Marijuana Business tax).

CA Excise Tax.

Sales tax.
Do I need a medical marijuana card to get weed delivery?
No, an MMJ card is not required for delivery.
How much should I tip the weed delivery driver?
The tip is up to your experience and the customer service provided. If you've had a great experience and want to show your appreciation, you can leave a tip at your discretion.
How old do I have to be to order cannabis online?
By law, you must be 21+ years of age with a valid government ID card or an 18+ medical card holder.
What payment methods does Cornerstone Wellness accept for weed delivery?
We offer a contactless ACH payment solution.
How do I order marijuana discreetly online?
   Use our online order link below and follow the instructions.     
Are there any restrictions on weed delivery orders?
If you wish to take advantage of our services, please make sure that you have a valid and current ID with you. Additionally, there are daily purchase limits — so be mindful when shopping! To ensure same-day delivery orders are processed on time, they must be placed by or before 8 pm.
How do I cancel or modify a weed delivery order?
If you need to modify or cancel an order, contact us at (323) 614-0935 or Delivery@cornerstonecollective.com
How do I get the best cannabis deals and discounts on delivery from Cornerstone?
We love to bring you the best deals and discounts on your favorite cannabis products!
New members automatically get 20% off their first order. For other deals and discounts, shop our Delivery Deals page for more offers!
What happens if my weed delivery order is late?
If your delivery will be more than 20 minutes late past the scheduled time, customer service will contact you for further information.
Do I need to be present when the cannabis delivery driver arrives with my order?
Yes! Make sure to have your current, valid ID card that was used when you initially signed up for the account.
What are the legal purchase limits for cannabis delivery in Los Angeles?
Recreational users — 28.5 grams of flower, 8 grams of concentrate (edibles count toward concentrates total).
Medicinal users — 228 grams of flower, 8 grams of concentrate (edibles count toward concentrates total).
Should I place my order with Cornerstone or a service like Weedmaps or Leafly?
For the most accurate and up-to-date information on stock availability, trust Cornerstone Delivery Service. Visit our Cornerstone Delivery Menu to place your order!
We happily accept orders through Weedmaps and do not currently accept orders through Leafly.
What hours is Cornerstone Wellness open for Delivery?
If you want same-day cannabis delivery, your order must be placed by 8:30 pm. Delivery windows are available between 10 am and 10 pm in 2-hour blocks. Schedule yours now!